Discover more from Adventures In "Journalism" by Sari Botton
Highlights and lowlights* (*mostly lowlights) from one Gen X lady writer's rather circuitous career path.
Over 1,000 subscribers
First, a welcome to new subscribers. Perhaps because my three newsletters are linked under my Substack profile, the rapid growth of Oldster and Memoir Land has led to an influx of readers here. Thanks for signing up. I appreciate it. 🙏
Second, a little bit of clarification regarding what exactly this is. Admittedly I gave this newsletter a weird name, given that it's only marginally about actual journalism. As you can see on the welcome page (which you only encounter the first time you land here), I've got scare quotes around the word "journalism."
This newsletter started out primarily as a place where I tried to make sense of/make fun of myself for a weird career path that—due to both my own shifting preferences, and various shifts within journalism, publishing, and digital media—began in journalism but ultimately deposited me elsewhere. I landed in the world of personal narrative, an area in which I've now been a writer, editor, and teacher for many years.
Sometimes I share stories here about earlier times in my career when I worked as a reporter, or later, when I taught journalism to undergrads. Sometimes I muse aloud about what qualifies as journalism—do personally reflective blog posts qualify? ethnography of the self? cultural observations? Other times, well, I just present those very things that might or might not qualify.
A little while ago I started a separate section called "Sari, Not Sorry," for the most personal of pieces—the title referring to my long-standing mission to stop apologizing for taking up space in the world and on the page. (It's also a play on the way most people mispronounce my first name. I pronounce it like "Larry," with a flat Long Island aaaaa.) But on some level, even when I'm writing about the state of my mind, I'm also writing about the state of the world. Like, I'm reporting on the world from the vantage point of my particular mind, which exists in and is a reflection of this farshtunkene world. So, I struggle to know which posts should be compartmentalized in that new separate section.
With that, on to a current aspect of living in said stinkin' world…
---
Saturday night Brian and I decided to try Brickmen, the new restaurant in uptown Kingston that recently replaced an old standby, Boitson's. Bad idea.
As soon as we were seated I was overcome with sorrow and burst into tears. Not only had the original bistro been a favorite for a dozen years; Tech Smiths, Brian's now defunct Apple repair shop, had been situated next door to it from 2013 to 2018, and maintained a close relationship with Boiston's. (Brickmen occupies both those storefronts.)
There'd been great synergy between those two old establishments, and a lot of cross-over in clientele. The space that Tech Smiths occupied was so big and beautiful, and Brian and I are such artsy weirdos, that we had the front area double as an art gallery and music/performance venue that I ran. (Think about it: other than at our place, have you ever been to an art opening or musical performance in a computer repair shop???)
Often when we would host art openings or performances, people would schedule reservations at Boitson's around them, and come to both. We'd also frequently end our workdays at Tech Smiths by walking next door for a drink or dinner. (I'd learned the most basic diagnostic techniques and sometimes manned the counter. I also subleased a small writing space in the basement.)
You can never go home, etc., etc., but I wasn't prepared for just how unsettling it would be to visit a new restaurant that had taken the place of an old favorite. It wasn't so much about the food—which was okay, except that someone in the kitchen decided to add breadcrumbs to the roasted cauliflower appetizer we'd ordered because the menu indicated it was one of few gluten-free offerings. (They decided to tell us about the error after I ate half the dish, so I unfortunately got glutened.) No, it was more about yet another instance—perhaps the worst instance—of the post-lockdown world being unrecognizable to me.
The new place was just similar enough to the old place, but also just different enough, and populated by so unfamiliar a crowd, that it felt as if I were unable to awaken from a bad dream. Boitson's had been a beloved, thoughtfully and uniquely appointed boîte with an eclectic if limited menu; the new place, as Chronogram editor Brian Mahoney wrote in his review, "brings an anodyne, Ramada by Wyndham hotel lobby energy to the space. It's now fit for everyone, and no one in particular."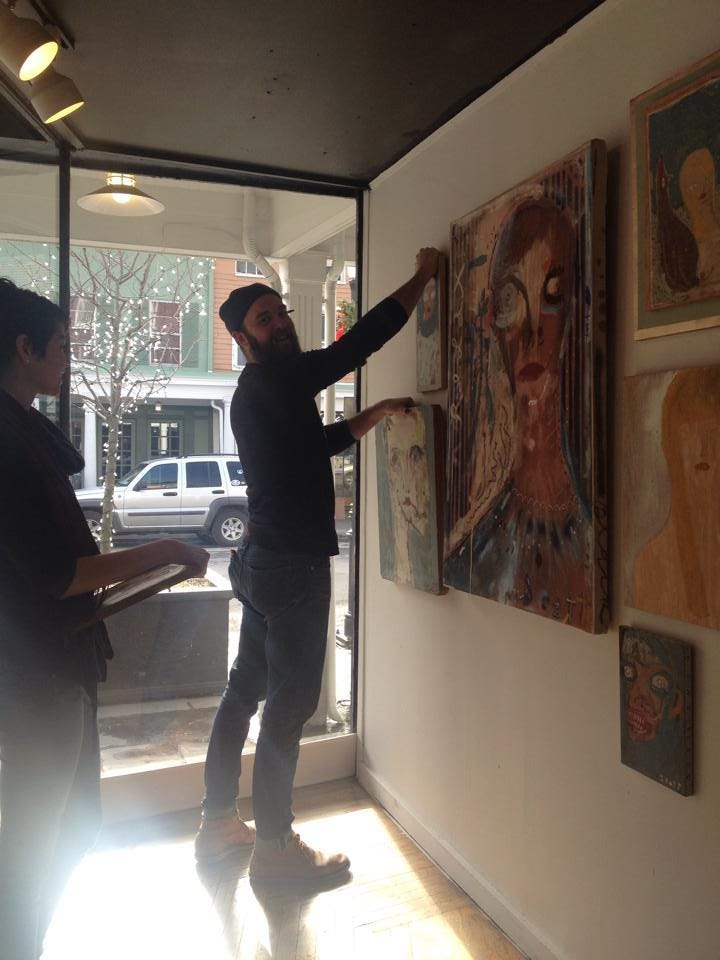 I'm not generally moved to the point of tears when a favorite hangout is replaced by a new corporate-feeling one. Except in unique situations, like when every single restaurant and meeting place I frequented before March, 2020 no longer exists. Boitson's. Outdated. BSP Nightclub. The Beverly. Lis Bar. The Anchor. Duo Bistro. Redwood. Lunch Nightly. All the places where I could casually bump into people and connect, and then make new connections from there. Kingston is a small city with a population of just under 24,000; that's a lot of places for us to lose.
What I'm saying is that while I was hiding in my house for three years, an entire scene in Kingston vanished. My scene.
I don't begrudge the proprietors of all the establishments that are now gone. Their places were casualties of the pandemic, just like Tech Smiths and my own Kingston Writers' Studio. Many of those proprietors worked hard to keep serving us during shelter-in-place (outdoors, via contactless takeout, etc.), and to hold on as long as they could once the world started opening up again. But alas, it was too hard. They'd lost too much. They were burnt out. Their rents went up. And up and up.
Yes, the pandemic accelerated gentrification here, bringing not only many moneyed new residents, but also well-heeled developers and new establishments that cater to them, many of which are only open during what we call "weekender hours" — Thursday to Monday at best, and often for even fewer days a week. (Obviously the much bigger tragedy is that people are being displaced by rising rents and Airbnb.)
It's all in accordance with the standard gentrification script, a cycle we know we unfortunately play a role in. We're members of the somewhat downtrodden creative class that moves from one disheveled, low-rent spot (the East Village of the 90s and early aughts) to another (the Kingston of the mid-aughts to roughly 2018, when we got kicked out of our last apartment by an NYC billionaire who bought the building), signaling to speculators that a place is ripe for investment and reinvention.
I saw this coming. In a viral 2014 essay about Kingston in The Billfold, I wrote:
"…during Kingston's fifth annual O+ Positive Festival …as my husband, Brian, and I watched painters beautify the brick exteriors of old buildings with original murals, and listened to bands in a cavernous, raw former vaudeville theater with a crumbling proscenium, we noted that some day in the not-too-distant future we'd probably look back on this time in Kingston as the heyday of an underground cultural scene, not unlike the way people now reflect on the scenes in Williamsburg and the East village in the early nineties."
I guess I didn't know it could happen all at once like it did, and amid so much real tragedy in the world. More than that, I think being confronted by a jarring mashup of past and present at not-Boitson's tapped into some serious pandemic-related grief that has been festering just beneath the surface for me.
I'd started thinking about that earlier last week, on Wednesday, when I attended a reading in Newburgh. Beverly Donofrio read from her memoir-in-progress, Riding in Cars with Dogs, and Ken Foster read from his, The House of Nine Dogs, about accruing an awful lot of canines while living in New Orleans post-Katrina. I wondered, What motivates a person to adopt that many animals? He went on to catalogue the many personal losses he'd endured leading up to that time, and it all started to make sense. Then he read the last line and it took my breath away: "This is a story about grief."
Oh, my gosh, grief. GRIEF! The elephant in the room. The elephant in every room right now. It brought to mind the rough emotional shape I've been in, and the rough emotional shape so many friends and family members seem to be in, post-pandemic. There is so much unprocessed grief everywhere—over family members and friends we've lost, work we've lost, and, yes, places we've lost. The rhythms of our friendships—also lost. So much to grieve!
It was almost a relief to name it. But then, having identified it, a few days later at Brickmen, I found I could no longer contain it.
What are we going to do about all this grief? Where do we seek support, when everyone around us is experiencing it, in one way or another? I guess all we can do is let it out. Even in the middle of a crowded new restaurant, on a Saturday night.