Discover more from Adventures In "Journalism" by Sari Botton
Highlights and lowlights* (*mostly lowlights) from one Gen X lady writer's rather circuitous career path.
Over 1,000 subscribers
This Newsletter IS My 90s/Aughts Media Memoir
It's different than the story I told myself then.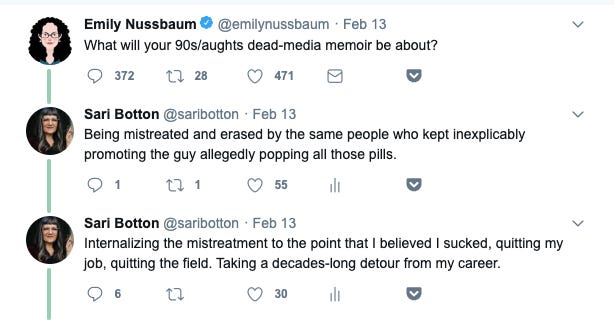 The past two weeks have been hard for a variety of reasons. One of them is that coverage of ______'s book transported me back to one of the most painful times in my career, in the mid-90s, when a famously mean boss led me to quit my job, and my career. Hindsight — the culture's and my own — has led me to a clearer understanding of what happened, and it's not good.
I've also gained new perspective on my own reaction back then: Instead of standing up for myself and fighting back, I shut my mouth, made myself small, and showed myself out. Not just out of my job, but out of my field.
Could there be a more apt metaphor for the way in which I hid myself: instead of continuing to pursue my career as a writer and editor for newspapers and magazines, I became a ghostwriter — a GHOST writer. I told myself a was a misfit, that I was allergic to office politics and fluorescent lighting, and I hid out in my East Village tenement, writing other people's books.
A few years later I would take my first stabs at returning to my own writing. I'd have to fight for every chance. When I was given opportunities, I would start to gain traction and feel hopeful. But obstacles of all kinds would arise. It would always feel like swimming upstream, as if I had fallen too far behind and would never catch up. It still feels that way.
Realizing all this over the past couple of weeks has elicited almost unbearable anguish and sorrow. One night my husband looked over at me and asked, "Are you okay?" and I descended into tears — a big, ugly cry, the kind where you can't catch your breath. (And then a few days later he had a shocking fainting episode — among the other reasons these past weeks have been hard.)
👻👻👻
I've been debating whether to go into all the mid-90s work drama here. Last Friday morning, as I contemplated how much I wanted to say and when, I thought about E. Jean Carroll's choice to hold off until her early 70s to speak out about about the sexual assaults she endured as a younger woman, at the hands of more than 20 men. She'd decided to wait until she was good and ready. She wanted control the narrative. And she didn't want to endure the kind of sexist, misogynist fallout she'd witnessed so many other women experiencing in the #MeToo era.
Then, Friday afternoon, it came to light that Carroll had likely lost her Elle advice column, "Ask E. Jean," in part because she'd accused the president of being the last of many men to sexually assault her — no, to rape her. The fallout had caught up with her, and it had cost her.
The same day, I read about Mean author Myriam Gurba unjustly being escorted out of her high school teaching job in Long Beach, California for standing up to school administrators about two other teachers harassing and discriminating against students. This is the same woman who received death threats for (rightly) being critical of American Dirt.
This all made me realize I'm not ready to delve into what went down in the mid-90s. (To be clear, there was nothing even in the ballpark of sexual assault; rather, I suffered sexual discrimination.) People have been encouraging me to speak up, but I don't feel up for it just yet. I don't want to deal with the fallout. And I don't want to let that experience define me. I worry that relitigating it will bring the wrong kind of attention to me as a writer. It has already had too much of an effect on my career.
🛋🛋🛋
Ironically, I'm writing this on a sofa that is attached to that time. It once belonged to a friend and colleague who gave it to us as when she moved with her family across the country.
It's a classy, rust crushed velvet sleep sofa that's also super comfy. My husband loves to nap on it. It's become a bit threadbare, but it was brand new in the fall of 1996 when my friend threw a goodbye party for me, following my announcement that I would be leaving my job.
Every day, when I sit on this couch, I can't help but remember that night. I can even recall ______ sitting on it, back when we were friends, being friendly and charming.
Maybe some day I'll tell you more about it.
🌟🌟🌟
• Here's a reminder about my Skillshare class — an introductory level personal essay workshop. You can get two free months of Skillshare Premium if you sign up for my class.